Dr. Bryan Bluhm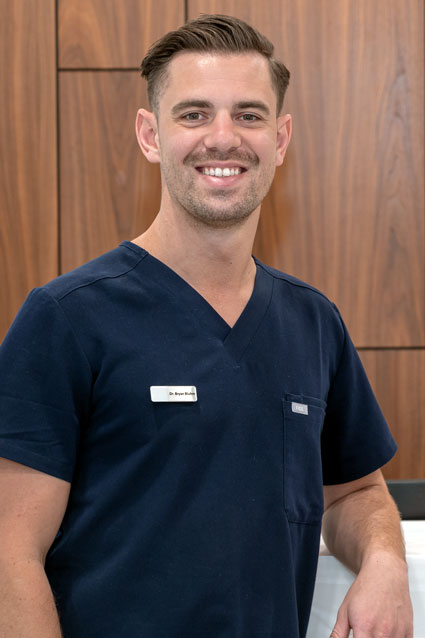 Dr. Bryan Bluhm grew up in Newcastle, NSW where he initially completed his electrical trade and worked as an Electrician for several years prior to deciding on a career change to dentistry which would allow him a greater opportunity to indulge his meticulous nature. Upon gaining entry to Griffith University he made the move to the sunny Gold Coast where Bryan went on to graduate with a Bachelor of Oral Health in Dental Science followed by a Master's of Dentistry, in which he achieved the Chancellor's Award for Academic Excellence.
Bryan always strives to renew his patients' faith in dentists by providing a gentle and understanding approach to every procedure. Through his analogies, Bryan ensures to simplify the confusion of 'dental language' so that every patient may understand their treatment before progressing.
Bryan enjoys all aspects of general dentistry, although he has a passion for cosmetic dentistry (crowns, veneers and Invisalign® treatment) and a unique interest in oral surgery (wisdom tooth removal & dental implants). Bryan also understands that healthcare is rapidly changing and therefore regularly attends courses to further his knowledge and provide patients with the gold standard of dentistry.
Outside the Office
Outside of dentistry, Bryan loves the outdoors and 4wding, so he can usually be found chasing waterfalls or out of reception exploring new 4wd tracks with his partner.
Get to know Bryan!
The exact moment that I decided I wanted to become a dentist was…
After I finished my trade and attended a Sydney University open day. As I walked through the simulation laboratory and checked out all the interesting mannequins with teeth and futuristic virtual 3D drilling stations.
What I love most about my job is…
Being able to work with my hands – I've always been more of a hands-on person and for me, dentistry fits in perfectly! But, what I love even more is the ability to deliver immediate, tangible results to patients, having a patient come in with a sore or broken down tooth and knowing that by the end of the appointment they'll be out of pain or have that tooth restored, or both! The cherry on top is knowing that whatever treatment is completed, will also help the patient's overall health.
My favourite type of dental treatment is…
Removing those pesky wisdom teeth. It always makes me happy to know that once they're dealt with, so is the pain and gum disease that generally comes with them.
If I wasn't a dentist, I would be…
An Electrician, as I was before! I still love working with my hands and problem solving, I just don't miss those Summer days working in the roof!
My favourite thing to do on the Gold Coast in my spare time is… 
Finding new tucked away bushwalks and waterfalls throughout the hinterland, there's always one more to find, and with any luck, a hidden little café, too!
Schedule your appointment via phone or email today! Your health fund coverage can be used for your visits.

Miami One Dental | 07 5576 5194